Become a Certified Level 1 Mace Instructor
The Revolution of
Mace Coaching
is here
We're proud to announce the Mace Instructor Certification Course of Dutch Flow Academy. After years of learning, coaching, testing, and applying we are certain that this Certification is going to be the best guide that is available for you to effectively coach your clients how to use a mace.

Training format: Online and In Person

Guide: Harbert Egberts
The mace has its roots in the oldest strength training traditions known to mankind, fighting and wrestling. As far back as we know civilisation has always known and used some kind of throwing, beating, chopping or slicing tool to use in battle or in the household. And in more recent history specific wooden tools were used with techniques to strengthen warriors and wrestlers. These traditions are still found alive in India and Persia. 15 years ago the mace made of steel was reinvented by the inspiration of the Gada found in India. This has propelled the use and innovation of this tool in a rapid pace and has created a completely new movement in the world. You're about to set foot in this new revolution of movement with the most advanced training method for the tool.

Dutch Flow Academy is proud to be part of this revolution. Harbert has been flying all over the world to meet and learn from the best teachers out there and document the history of this amazing tool. Through this process he has been able to create a unique approach to the mace which blends the more traditional style of swinging and going up in weight with the more martial arts style of training also known as mace flow or steel mace flow. This process is the result of years of experimenting, coaching, and learning. The Dutch Flow Method adds a unique blend to how you can approach the mace and in combination with spectacularly detailed coaching cues this instructor training promises to be the most effective and comprehensive mace instructor training ever.

As you might know from experience learning the mace is not as easy as it seems and teaching it is a whole other level of complexity. The possibilities of training with a mace are endless and this creates a lot of confusion to the uninitiated mind. Starting from scratch can be a process of trial and error that may take years to master. Dutch Flow Academy is on a journey to spread the awareness and quality of mace training instruction all over the world. Our mission is to provide the highest quality of education to provide flow in your training and in your life. We're dedicated to empowering our students to become expert instructors, raising the bar of quality coaching in the vast ocean of fitness and health. This will benefit many in their ability to coordinate, move and coach and create a ripple effect that will affect countless individuals.
"Flow is being completely involved in an activity
for its own sake.
The ego falls away. Time flies. Every action, movement, and thought follows inevitably from the previous one, like playing jazz."
Three days diving deep with a group of like minded people
Daily breath work and mobility
Two days of Level 1 Mace Instructor coaching of fundamentals, exercises, coaching cues, workouts, warm up and prehap and rehab
Professional support, guidance and instruction.
Access to two previously shot online courses to be completed before the start of the weekend
Online access to the entire certification (the certification will be taped)
DFA Mace Instructor Level 1 Course Syllabus
DFA Mace Instructor Level 1 Certificate
DFA Mace Instructor T-shirt
Two online group meetings after the weekend
The location of the training facility in The Netherlands is Funktional Fitness in Zevenaar. The location for our stay will be released later after signing up.
All you need to is show up at 15:00 and all will be arranged. We will close the certification Sunday around 16:00-17:00.
Training clothes for two days
Warm clothes for the evenings/mornings
Toiletries for two nights
Swimmers
The initial phase of the Mace Instructor Certification Course is done online and before the start of phase 2, the certification weekend. It involves completing two online courses, Mace Flow 101 and Gada – Mace 101. You'll be required to finish both courses before the start of the certification weekend and send us two videos that will show the effort you've put into completing the courses. This is a mandatory step in the process and if not successfully completed you will not be able to join phase 2. The prerequisite online courses will teach you the fundamental movements and ways to approach the mace. The courses and their completion are mandatory because we are looking for dedicated students who will be able to soak in all the information during the certification weekend. Having gone through a process of learning yourself will greatly benefit your ability to pick up knowledge during the weekend. We also believe in that your own skill and understanding should be proficient enough before starting to coach others through the process.
The main part of the certification will be an all inclusive weekend including housing and food and access to the Fitness Church in Zevenaar. All you need to do is come to Zevenaar on the afternoon of Friday and you'll be sorted until Sunday. The certification starts at 15:00 on Friday and will end around 16:00 on Sunday. During this weekend we're going to dive deep into the material of the certification course. Two full days of education, exploration, and testing. We will complete the certification with a test that you'll need to complete before the end of the weekend and before you'll receive your certificate. During the rest of the weekend we'll spend time getting to know each other, diving deep into our bodies using breath work and mobility and have an overal fantastic time. The idea of the weekend is to immerse deeply into the course material and have an amazing off-grid experience with a group of people passionate about the exact same thing with the same purpose in mind.
You're going to leave the weekend with a feeling of having been immersed in a new reality concerning training and knowledge. This feeling, however, is going to fade once you enter your usual day to day routines. To keep the knowledge and the experience intact, we'll organise two online sessions for the group to ask questions and to bring back some of the experiences. As for the knowledge part, we're planning to shoot the entire course on tape and professionally edit the certification course for possible online certifications in the future. This tape, once completed, will be available to you as reference material for your future coaching endeavours.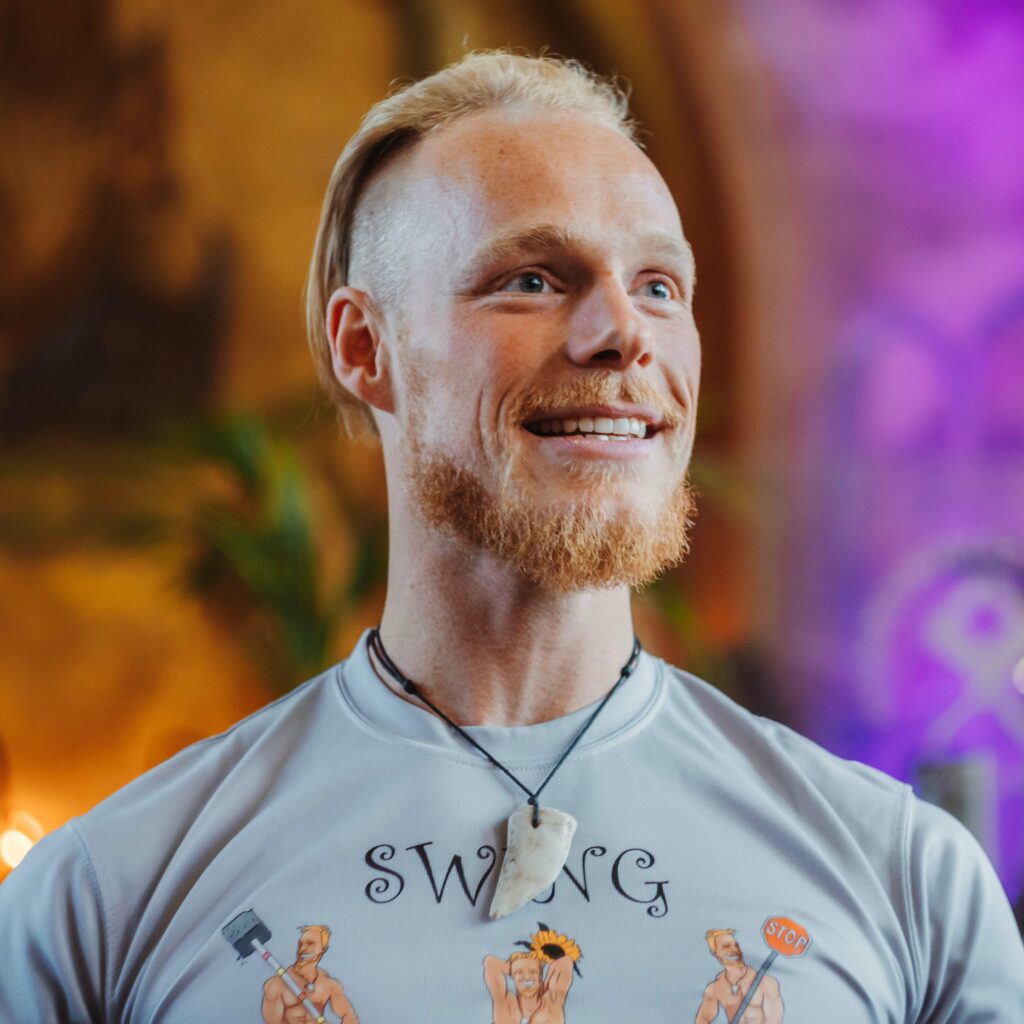 Harberts life changed dramatically when he reached the age of 21. After a tough breakup he was forced to look deeply at himself for the first time. This altered his state of consciousness as he now shifted from a mindset of scarcity and victimhood to an empowered human being that was able to transform himself through action and discipline. He decided to not pursue his laid out university career and follow his passion instead: personal development, fitness and philosophy. This led him to start Dutch Flow Academy in 2017 and teach people how to move and use unconventional tools for that job. Around that time he discovered the mace and started to train and coach with it. Soon enough he traveled to India and the USA to learn more about this amazing tool and its history. This propelled him on a journey of teaching workshops all around the world, creating online courses, go to India four more times, and now teach the first certification of Dutch Flow Academy. He's now a well known and respected coach in the swinging arts. The journey is still unfolding and he can't wait to have you on board and help spread the art of the mace.
Interested, but not sure? You can subscribe to the instructor mailinglist to stay updated on the certification and future certifications. This list is for everyone who is thinking about becoming a certified mace coach, now or in the future. You can also book in a 15 min discovery call with Harbert to see if this certification is a match for you. At last you can download the Course Syllabus, which includes a lot of information about the certification.