Welcome to Mace Flow 201. The course is designed to teach you the basics of swinging a mace with one hand and learn how to transition between one-handed swings to eventually combine them into a flow, aka a sequence or complex of movements. Swinging a mace with one hand is one of the more difficult things to master. What this course will bring you is a solid foundation in learning and understanding how to swing with one hand and the variations and repetitions will bring mastery of swinging with one hand. This 201 is ideal for you if you're ready to start swinging with one hand or want to improve your one-handed swing.
Just like the 101, this course will teach you how to perfect the most fundamental movement of the mace, one-handed the figure eight. This is a combination between the front 360 and the back 360. We'll apply the foundations of the Dutch Flow Method to these swings using different grips and positions to swing the mace from. We'll also add a pivot to the swings to finish with a flow of everything that is taught in the course, the 10 step figure eight flow. Completing the final flow will ensure you that you've mastered everything that you learned in the 201. Once completed you'll receive a certificate of completion.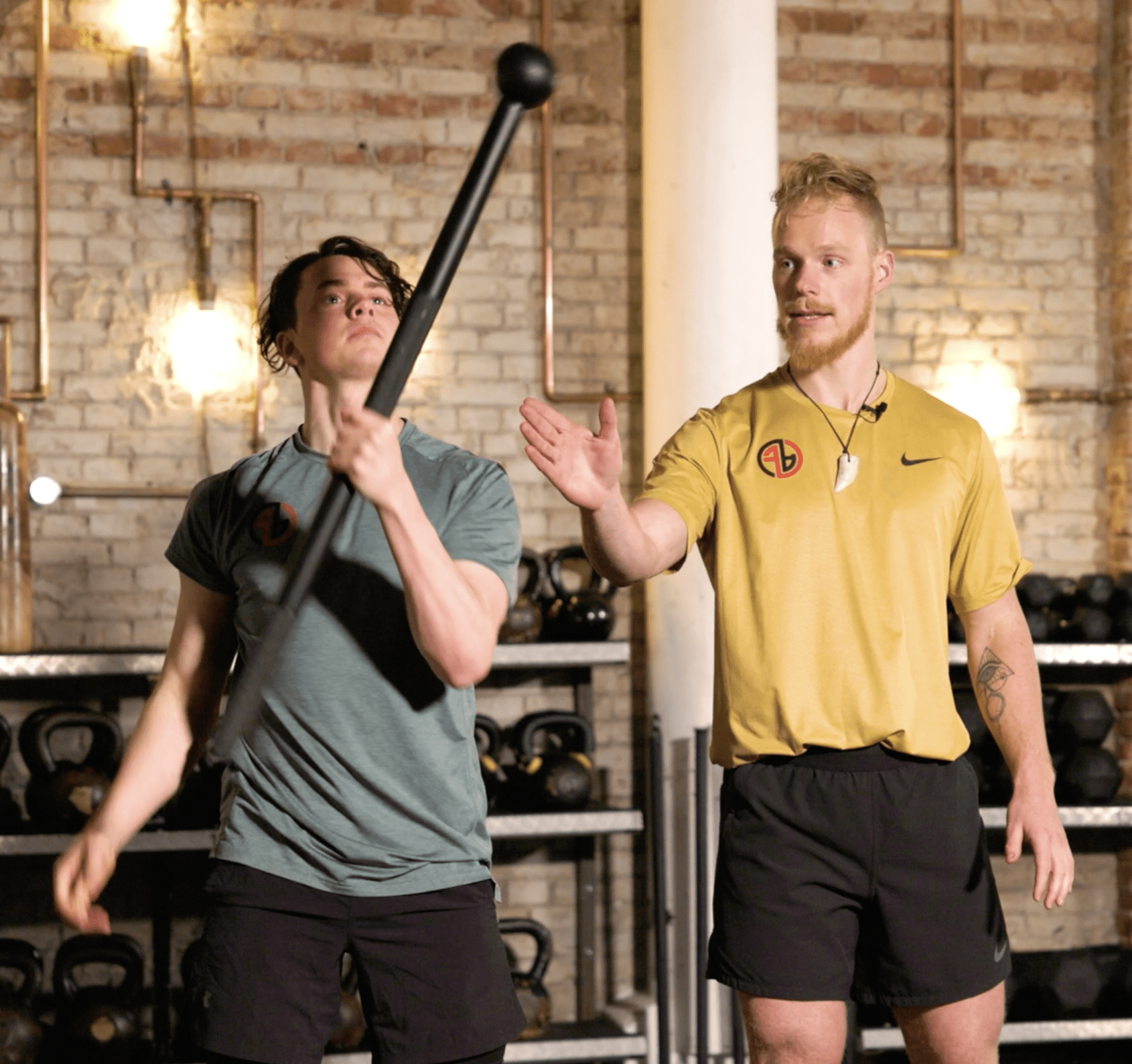 Difficulty. The name suggests it is not a complete beginner program. One-handed swings are difficult to master and you'll have to have some experience swinging with two hands before starting this 201. The 101 is the ideal step up for this course, but it's not a mandatory requirement. Swinging a mace is a skill you need to master. You'll learn key foundations and mobility exercises that are vital for swinging with one hand. Because we're using different grips and positions you'll not have to start all the way at the end of the handle. We will build up slowly in order for you to master the art of swinging with one hand. Learning the variations and transitions taught in this course will be of tremendous help in moving forward and perfecting your personal library of movements. Perfecting one swing will translate into your ability to perfect every swing. The 201 sets the perfect foundations for every one-handed swing that is possible.
The length of the course depends on the current level of the practitioner and his/her ability to learn and apply new movements. The length of the course is about two and a half hours, but it is not recommended to watch and try all the videos at once. You'll need to repeat the movements a certain amount of time before moving on and this is also necessary for you to be able to be ready for the next video. For the less experienced swinger one video a time will be a good aim, and for the more experienced swinger two videos at a time will do. So the estimated time frame of this course is between one and two weeks. Do take into account, however, that one-handed swings take a lot of time to perfect.
Requirements. What you'll need for this course is a mace of 4/5kg or 9/11lbs and a wooden stick for the mobility routine. This weight is necessary for the learning experience. Eventually you'll be able to use much heavier maces made from any material.
Still doubting if this course is the one for you? You can read through the other courses or contact us at info@dutchflowacademy.com.
Get direct access
Get unlimited acces to Mace Flow 201, the course that will make you master one-handed swings.
Enroll
Introduction
Swings
Flow
What Others Have Said Oct 1, 2022
Amazing program and work out
I wanted to write this since I started the program, I loved it since the first time, again a nice and very well produced and explained programe that guide you step by step to lean the proper flow and master the mace, I love the program I'm looking forward for a gada program lol. I love Herbert's style a lot, flowing and swinging the mace Aug 21, 2022
Very nice as always
I have not once been sorry for following one of Harbert's programs. There is always something new to learn and little repetition between them. Doing them helps me being a better athlete by improving my technique as well as being a better teacher to others 🙂 I can highly recommend any of them.