BOOM!
Welcome to the 3 Week Workout Program. This program is a Mace Flow workout program and an educational series in one! The program is a unique combination between developing your skills with the Mace, working out at the same time, and learning how to create flows. It's a shorter version of the 6 Week Workout Program focussing on the first 3 weeks.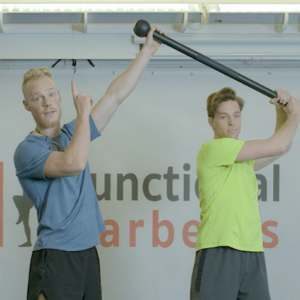 Description of the program: It's divided into 3 weeks/stages designed to start as a beginner. This is not to say that you can only go through this program if you're a beginner, every week it becomes more complex. Due to the vast variety of possible exercises this program focuses on key exercises that are useful for every stage in the development of skill with a mace. You will combine those exercises and eventually creating a movement pattern (flow) from them.
This course is professionally shot, and edited by a camera team. In every video there is an instructor and a student. The exercises/flows are explained in detail with no time restrictions. The course comes with detailed written explanations and pictures of every lesson.
There is no time limit on the course, once you've purchased it, you can go back to it every time.
Length of the program: 3 weeks, but think of it as stages. You can proceed to the next stage whenever you feel ready.
Difficulty of the program: Beginner to intermediate. The program starts with the basics of mace flow, and gradually becomes more complex as you progress in the program. Everyone is capable to join. When you've finished the program and done every rep that is prescribed I guarantee you that you will not be a beginner anymore with the mace.
What others have to say:
"I started the program today, workout #1 in the books. Absolutely terrific – well detailed instruction, and quality production. I feel great and I'm looking forward to the next session."

"Signed up for the online course last week and doing week 1 now, enjoying learning all the details behind every move! Great course with great detail instructions, I especially love the stretching exercises that you need to do at the beginning of every workout, really loosen all the tight muscles."

"This is the best workout program I've ever done. I've had a mace for a while and been doing some beginner to immediate moves and mainly messing around. But after completing this course I feel like I've improved SO much. The best thing about this course how it's structured."

"You (Harbert) are totally rocking it on the content bro. I just finished up week 3 and have already added so many moves to my arsenal that previously I couldn't get down."
[embedyt] https://www.youtube.com/watch?v=-w5JEQ1t7aI[/embedyt]
3 Week Online Workout Program
The Flowing Dutchman 3 Week Workout Program. Video series along with guided descriptions and pictures.
Enroll
Introduction & Principles
Week 1
Week 2
Week 3